Four Weddings and a Funeral may seem like an unlikely source of fashion wisdom, but Charles' bridal-shop changing room joke ("there's nothing more off-putting at a wedding than a priest with an enormous erection," he advises Carrie, resplendent in clingy satin) rings true 21 years later.
Even today, in the overtly sexualised age of the bum selfie, most brides tend to choose gowns that are chaste and virginal. The bridal industry, for its part, is almost pathologically demure. Terms such as "classic", "gorgeous" and even "swoon-worthy" abound at bridal shops; the words "sexy", "edgy" and "daring" do not.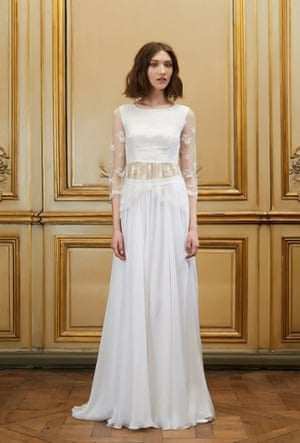 FacebookTwitterPinterest One of Delphine Manivet's designs. Photograph: Delphine Manivet
And yet, this year, a flesh-flashing bridal trend is starting to emerge. Among the lace and tulle at the SS16 Bridal fashion week shows there was a hint of flesh: midriffs were shown and bellies were bared. Some designers did it subtly – the reigning queen of ivory elegance, Vera Wang, showed dresses with cutouts baring flesh at the ribs. Many more designers went for the full crop top.
Reem Acra was one of the first designers to experiment with bridal crop tops, and believes the midriff-baring "new breed of bride" is "current, sexy and independent" – a refreshing set of adjectives in a chiffon-wrapped world. Another designer, Delphine Manivet, thinks the trend is for women who have confidence in themselves and who know their fashion. In Manivet's case, the midriff is often visible but covered with a thin layer of lace or chiffon.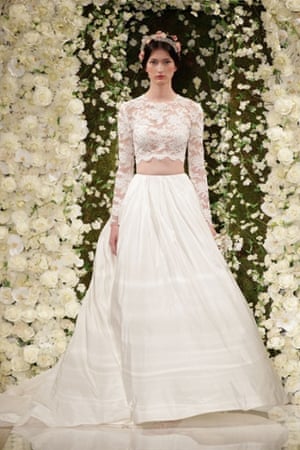 FacebookTwitterPinterest Reem Acra's autumn/winter collection – bare midriff, long sleeves. Photograph: JP Yim/Getty Images
"I design these for the destination bride, for her more relaxed informal outdoor summer wedding," says another crop top fan, Theia's creative director Don O'Neill. He has a specific vision in mind: "The bride could be barefoot on the sand, her hair is tousled and soft, the groom is in a tan cotton suit, waves are crashing behind the happy couple, and the ceremony is timed to catch the sunset."
It all sounds rather lovely – and a world away from the Katie Price comparisons one might expect flesh-flashing brides to attract. In fact, this is a high-fashion look – crop tops have been huge news in mainstream fashion, and America's Sweetheart, Taylor Swift, is their patron saint.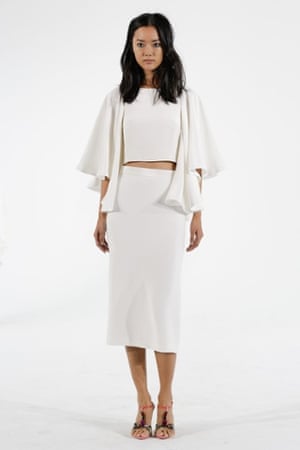 FacebookTwitterPinterest A relaxed, crop top bride from Houghton. Photograph: JP Yim/Getty Images
New York-based alternative bridal label Houghton went even further this season, creating a gown with an "under cleavage, meaning the crop top is so short you see the under-bust," according to designer Katharine Polk. "I then attached a layer of silk chiffon below the bust to flare out. I think each girl has a part of their body that they love ... I think its a great alternative to an open back as long as its balanced with a long sleeve, high neck and or longer skirt."
Being brave is not something people tend to adhere to on their wedding day
Kate Halfpenny, whose vintage-inspired designs have been worn by Kate Moss and Daisy Lowe, is not quite as convinced, having only ever had one client who ever wanted a crop top. "She wore a cropped lace T-shirt with big tulle skirt, but she was getting married abroad on a beach." In most cases, she says, crop tops are a great way for designers to drum up interest in their labels and demonstrate creativity on the runway: "But I'm not sure they are super wearable – unless you have Rosie Huntington-Whitelely's abs."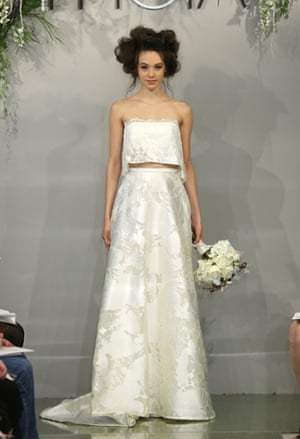 FacebookTwitterPinterest The Theia bride: ready for Coachella. Photograph: Jemal Countess/Getty Images
"Those pictures are in your album for the rest of your lives," she adds. "They will be on your parents' wall for rest of theirs. Most brides don't really want a trend-led look. They want to look elegant and timeless, to be a really polished and refined, beautiful version of themselves. Being brave is not something people tend to adhere to on their wedding day."
That's probably an accurate reflection of the feelings of many brides – although O'Neill's description of his crop-top clad customer sounds a lot more fun. "She's a free-spirited girl who marches to the beat of her own drum, breaking the rules of predictable fashion, always dressing to please herself," he says: "She is not walking down the aisle in a cathedral or church, she is the Coachella, boho bride. Her friends and family will not be surprised to see her in her super cool crop top and flowing bridal skirt at the coolest wedding ever."